Thank you for attending IoT 2014! Hope to see you at IoT 2015 in Seoul, Korea
Congratulations winners!
Best paper: Californium: Scalable Cloud Services for the Internet of Things with CoAP


Kovatsch, Matthias (ETH Zurich, Switzerland); Lanter, Martin (ETH Zurich, Switzerland); Shelby, Zach (ARM Inc., USA)

Best poster: Low-Cost Intelligent Prepaid Energy Meter, Rishikanth C, Akshaya Ravishankar, Anand Vignesh V, S Vikram Vel, Vineeth Vijayaraghavan, Dhiwaakar Purusothaman S R R (Solarillion Foundation/Solarillion Foundation/Shree Motilal Kannhayalal Fomra Institute of Technology, India)
Best demo entry: A Human Centric Intelligent Society powered by the Cloud Computing and the Web of Everything: Demonstrating how a bike accident is solved in an hyper connected world, Antonio J. Jara, Ian Thomas & Lou Fedon (University of Applied Sciences Westen Switzerland (HES-SO); HOP Ubiquitous, Spain; Fujitsu RunMyProcess, Paris, France)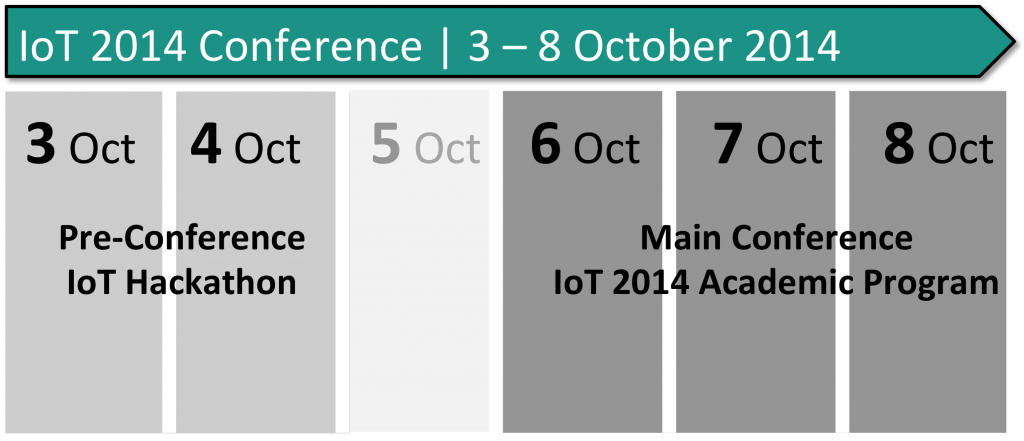 The 4th International Conference on the Internet of Things (IoT 2014) will take place October 6–8, 2014 in Cambridge, MA, USA.
The complete IoT 2014 Program is now available

here

.
Registration is closed. Workshop and Demo presenters that need to register should contact: iot2014@mit.edu 

Please specify the session in which you are scheduled to participate.
Have something to say about IoT for Industry? 

Fill out our survey!
Pervasive connectivity, smart devices and demand for data mean that the Internet of Things is growing by leaps and bounds. Computing power is dropping in price, new sensors are being developed, and as people buy into Internet of Things technology, economies of scale lend themselves to the creation of ever more data-centric businesses. Instrumenting and connecting devices has massive potential to deliver value, but there is need for a coordinated effort for rolling out the next generation of self reporting devices. The 2014 Internet of Things Conference is the premier forum to share, discuss and witness cutting edge research in all areas of development for the Internet of Things.
The 2014 Internet of Things Conference is seeking original, high impact research papers on all topics related to the development of the Internet of Things. Papers are selected on the basis of novelty, technical merit, presentation effectiveness and impact of results.
Survey for "IoT Applications – Value Creation for Industry"
We are currently running a survey to collect your opinions and experience regarding IoT applications, challenges, outlook and obtaining value from such solutions. The results will be addressed during final discussions at the industry workshop.