The IoT 2021 Conference will be held this year in Switzerland, a country known for its chocolates and cheeses. The Institute of Computer Science at the University of St.Gallen and the city of St.Gallen are looking forward to returning to in-person engagements with the IoT academic and industrial community in a new-normal style (thanks to the gradually reducing COVID-19 restrictions). In the conference program, we have created enough space for the personal serendipitous professional and social exchange among the IoT community, and will create hybrid networking options to allow the mingling of offline and online participants at the conference.
As an added benefit if you choose to participate physically, St.Gallen will not disappoint you. The city of St. Gallen is located around 20 kilometers west of Lake Constance, with the Appenzell Alps to the south, and its Abbey was designated a UNESCO world heritage site in 1983. We're around 50 kilometers away from Zurich Airport and reachable by railway (every 20 minutes) or automobile. Join us during the conference for some delightful swims in Lake Constance, famed local Bratwurst sausages, and hikes through the gorgeous Appenzell valleys. We are cheering for your participation!
Register for the conference:
Register for IoT 2021 using this website. Authors should note that each accepted paper that is published in the IoT 2021 Proceedings requires at least one full-paying non-student registration (either onsite or online).
Important dates:
Early Registration deadline: November 7, 2021
On-site Registration: November 8-11, 2021
Conference Fees:
| | |
| --- | --- |
| Online Participation | CHF 40.00 |
| In-Presence Participation (on-site) | CHF 600.00 |
| In-Presence Patricipation (early) | CHF 500.00 |
| In-Presence Participation (early; student) | CHF 400.00 |
| Online Paper Presenter* | CHF 250.00 |
| In-Presence Paper Presenter* | CHF 500.00 |
* for every published article, at least one author must register at this rate by Oct 18th.
Venue:
University of St.Gallen
Dufourstrasse 50
CH-9000 St.Gallen
Tel +41 71 224 21 11
Fax +41 71 224 28 16
How to reach us:

If you choose to use our reliable public transport, we recommend taking bus number 9 or 5 from the St. Gallen Bahnhof to attend the conference at the main campus of the University of St.Gallen:
· Bus number 9 towards Schuppis Nord (stop at Uni/Gatterstrasse)
· Bus number 5 towards Rotmonten (stop at Uni/Dufourstrasse)
The sessions on Monday will take place in the main building 01, while the rest of the conference program will be held in 02-01 (Aula: the auditorium opposite the main building).
Map of the Campus: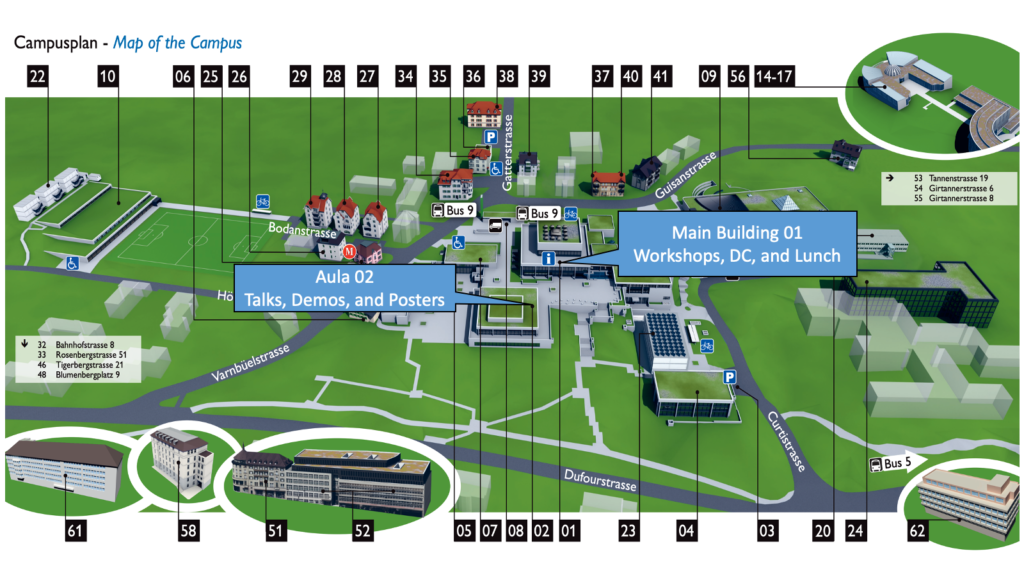 Main Building: