The IoT 2022 Conference will be held this year in Delft, the Netherlands. The Faculty of Industrial Design Engineering (IDE) at TU Delft, and the city of Delft, hope to return to in-person engagements by organising a physical IoT 2022.
Delft is a city and municipality in the province of South Holland, the Netherlands. It is located between Rotterdam, to the southeast, and The Hague, to the northwest. Together with them, it is part of both Rotterdam—The Hague metropolitan area and the Randstad. Delft spans an area of 22.65 km2 with an estimated population of 103,581 (2021) and a population density of 4,573/km2. The city of Delft came into being next to a canal, the "Delf," which comes from the word "delven," meaning to delve or dig, and this led to the name Delft. At the elevated place where this "Delf" crossed the creek wall of the silted-up river Gantel, a Count established his manor, approximately around 1075. Partly because of this, Delft became an important market town, the evidence for which can be seen in the size of its central market square. Delft is a popular tourist attraction in the Netherlands. It is home to Delft University of Technology (TU Delft), regarded as the center of technological research and development in the Netherlands, Delft Blue pottery, and the currently reigning House of Orange-Nassau. Historically, Delft played a highly influential role in the Dutch Golden Age. For a full list of Delft sightseeings, visit the official website of the city of Delft.
Venue Address
Faculty of Industrial Design Engineering, TU Delft
Landbergstraat 15
2628 CE Delft, the Netherlands
Tel +31 15 278 9807
How to reach us
Delft is very well connected. The location allows participants to reach the conference from almost all over Europe in ~4 hours. Delft is also well connected to the European long-distance train system.
By plane
VIA AMSTERDAM AIRPORT SCHIPHOL
Amsterdam Airport Schiphol services all major airlines. The train connection from Schiphol to Delft is a 40–60-minute train ride, and can be reached from many destinations. The Amsterdam Airport Schiphol airport is the world's 2nd largest hub airport with direct connections to EU and global destinations, such as Copenhagen (~127€), Helsinki (~142€), London (~126€), New York (~476€), Vienna (~121€), Munich (~158€), and many others (indicative prices for November). Trains depart from Schiphol roughly every 15 minutes.
VIA ROTTERDAM THE HAGUE AIRPORT
The nearest airport is Rotterdam The Hague Airport. This airport has 40 destinations in Europe, and by its size has a shorter check-in time. From there, by bus or by train one can reach Delft in 30–40 minutes, or take a 15-minute taxi ride to Delft.
By public transport
Delft is accessible by train from Paris, Brussels, and London. Although the high-speed trains do not stop at Delft, you can disembark in either Rotterdam or Den Haag HS and get on a connecting train to Delft (10–15 minutes). Trains from Germany arrive via Utrecht CS and Amsterdam CS, both of which are about 50 minutes from Delft on a connecting train.
To travel by public transport you need a so-called "OV-chipkaart," which you can buy at railway stations, the airport, etc. Before you can use the card, you need to load credit first onto the card.
Once in Delft, at Delft Central Station several buses depart for Delft University roughly every 10 minutes. You can get off at the bus stop "TU Aula" stop, right in front of the Aula Conference Center building and almost in front of IDE, at the TU Delft campus. Bus lines that reach the "TU Aula" stop are:
40 direction Rotterdam Centraal
55 direction Zoetermeer
69 direction TU Technopolis via TU
174 direction Rotterdam Noord
More information on buses? Visit the 9292.nl trip planner. Need a taxi? Visit Taxi Delfland or call +31 (0)15 364 64 43
By car
IDE is easily accessible by car via the A13, exit Delft/Pijnacker and exit 10 Delft Zuid/TU-wijk. You can find five large parking lots on the campus.
Parking
Parking is free of charge on campus. The six large parking areas are well signposted on the campus ring road. However, demand for parking is high. Always account for enough time to find a parking space and then walk to your destination.
Recommended parking locations

P Aula (navigation address Van der Waalsweg 1)
P EWI, 8-minute walk (navigation address Feldmannweg 2)
P Sports, 10-minute walk (navigation address Van den Broekweg 1)
Accessibility
Disabled parking is available at the main entrance (Book in advance). All floors have disabled access.
Delft Shuttle Service
Delft has a shuttle service running every day from 10:30 to 17:00. There are several stops around the city, including one at TU Delft library, next to IDE. The day ticket costs 4€.
Map of the TU Delft Campus (north)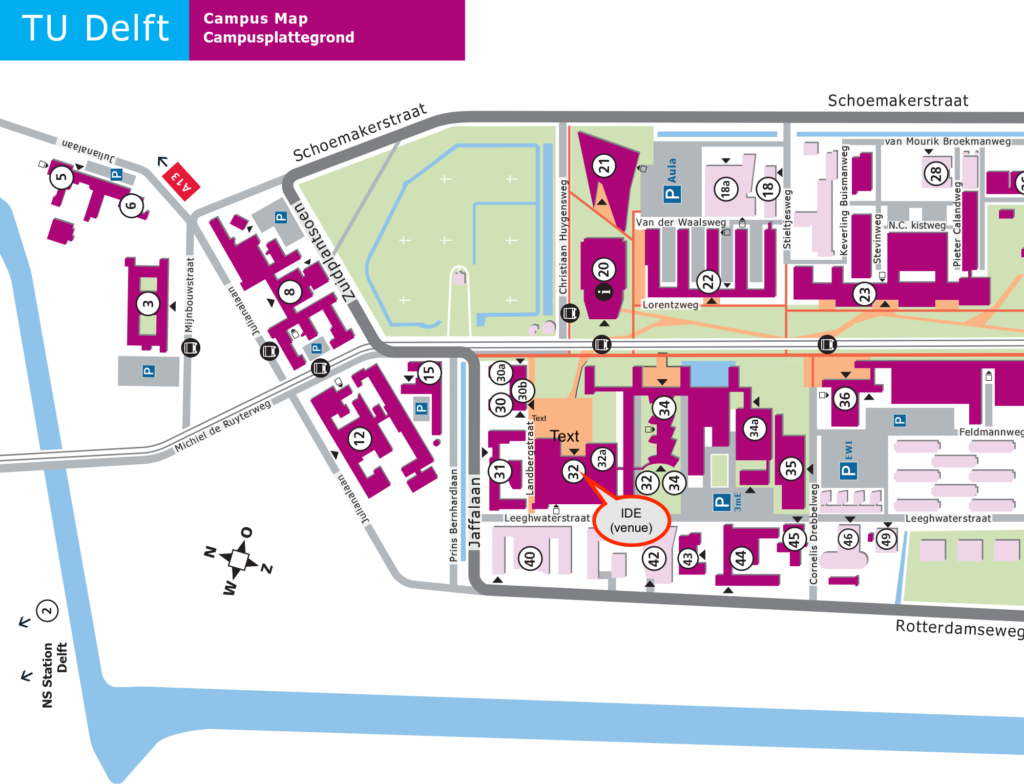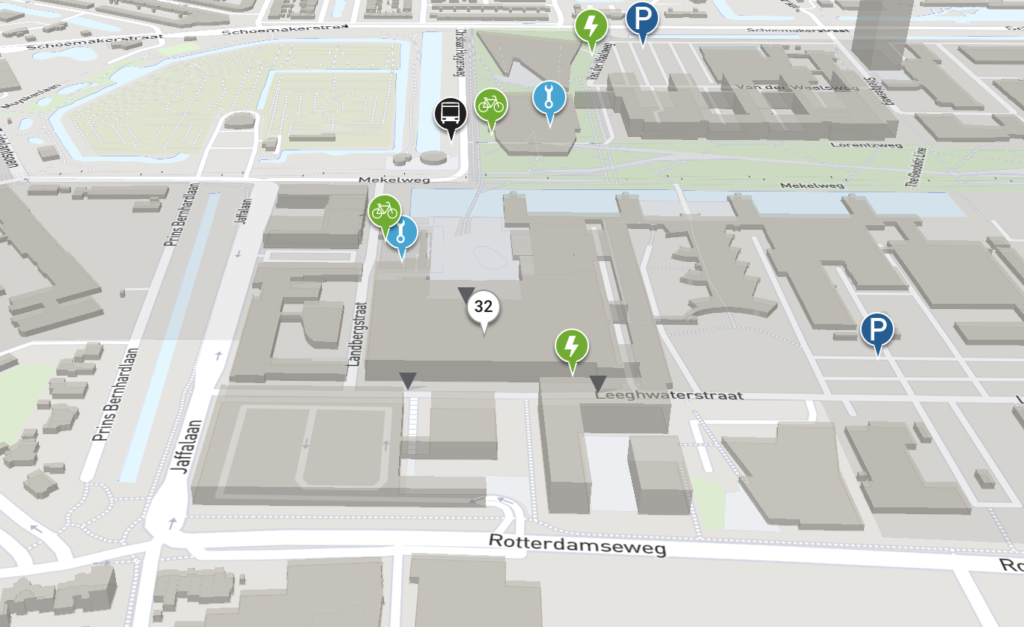 "IDE Arena" and "The Pit"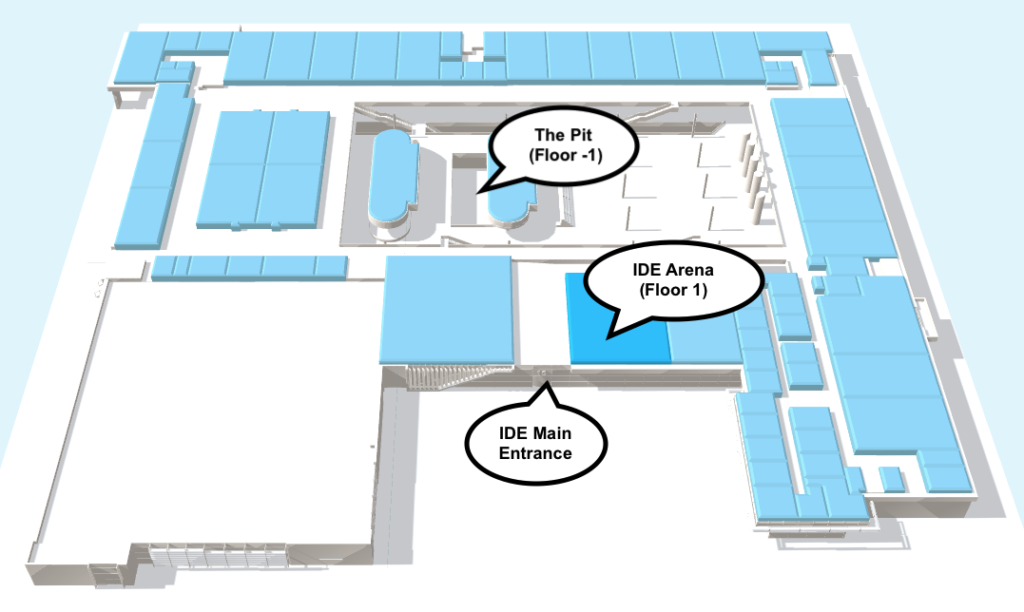 Main Conference Hall: "

IDE Arena

"