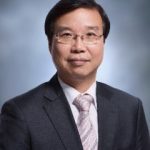 Dr. Hyogun Lee
Executive Vice President, Samsung Electronics
Title: Vision for IoT & Key Technologies
• Date/Time: 9:30~10:30 am, Oct. 26, 2015
• Place: Room Halla, Hall E, Coex
• Session Chair: Daeyoung Kim
Abstract:

IoT technologies are evolving rapidly and will affect many aspects of human life. In 2020, it is expected that more than 10 billion IoT devices will make our lives more convenient.

Samsung have a vision for delivering new value to our lives by making 90 percent of all Samsung products IoT-ready in 2017 and all devices in 2020. Key factors in the IoT ecosystem are a device (Device), connection between devices (Connectivity) and services through a connection (Service). To acquire those enabling technologies will be the key to win the competition.

Samsung Electronics has been developing a SW platform, interoperability (Interoperability) technology and intelligent services technologies for IoT devices in order to lead the IoT era through various kinds of cooperation and openness
Biography:

Executive Vice President, Samsung
Co-chair, Tizen Technical Steering Group
Dr. Hyogun Lee is an Executive Vice President at Samsung Electronics and the Head of Software Platform Team of Software Center, leading the development of the Tizen Open Source Platform for smart devices, such as smartphones, smart watches, tablets, IVI (In-Vehicle Infotainment), Digital TV, etc. Before holding this position, he was the Head of R&D at Visual Display Business Division and led development of Samsung TV products. Dr. Lee earned his Ph.D. from KAIST (Korea Advanced Institute of Science and Technology) in Korea.
---
Dr. Shoumen Palit Austin Datta
Senior Vice President, Industrial Internet Consortium and Research Affiliate, School of Engineering, MIT
Title: A Common Sense of the Connected Future: Can we transform paradoxes to paradigms?
• Date/Time: 9:00~10:00 am, Oct. 27, 2015
• Place: Room Halla, Hall E, Coex
• Session Chair: Dr. Alexander Ilic
Abstract:

Did you receive a tweet from your bathroom today? I did. My bathroom said I was out of shampoo. I trust my bathroom knows how to order Garnier Fructis from Alibaba. I have other pressing problems. My 50 year old Peugeot 204 has a vintage water pump in need of an obsolete spare part. Hankkion Autohuolto in Tampere has found an innovative solution. They contacted Peugeot for the design of the part and then collaborated with Dr Kim at KAIST to print the water pump spare part using a 3D printer capable of DMLS. After dropping off my Peugeot in the car repair shop, I hop on an autonomous road link which takes me to my clinic. My first patient is Yun Yao Chang from Busan. I explore the cut on her shin which is slow to heal due to her type II diabetes. I capture her data from her embedded glucose sensor and download her physiological history from her Samsung Galaxy 6 to my iPad. I adjust her insulin dose and reconfigure her synthetic insulin delivery nano-drone. My next patient is suffering from Arsenic poisoning in Bangladesh.

These are not stories but the broad spectrum of socio-economic disruption anticipated by the increasing diffusion of the industrial internet and the internet of things which is ushering a tsunami of connectivity catalyzed by the convergence of science and society with engineering and technology. The information deluge from connecting atoms to bits, known unknowns with unknown unknowns and the industry with society, will reshape our thinking about privacy, propriety and prosperity. The ability to use ambient intelligence will influence transaction cost economics, challenge conventional wisdom, spur counter-intuitive approaches and expose cryptic relationships to create new correlations, induce non-obvious analyses and trigger geo-political disequilibrium. It will call for precision resiliency to become an integral part of the networked society in future smart cities. The "silo" modus operandi may be vastly inadequate to improve operations, visibility, agility, efficiency and profitability. Compartments must be dissolved by deliberate design of complementarity, to evolve, embrace, adapt and adopt global platforms with distributed intelligence harvested from data acquired from transdisciplinary system of pervasive systems.

Sometimes the period of change is an age of hope, sometimes it is an age of despair. The Fall of the Roman Empire occurred in a prolonged age of despair. Steam, Democracy and Information Arbitrage belongs to an age of resiliency, resplendence and reasonable hope. The sum of the parts, if synthesized together, may accelerate the dynamic pursuit of ethical globalization, perhaps usher an era of remediable injustices and slowly but steadily improve the GINI coefficient on our elusive quest for égalité.

Please explore http://bit.ly/MIT-IOT and please review biographical outline here http://bit.ly/SD-BIO
Biography:

Dr. Shoumen Palit Austin Datta is a Research Affiliate at the School of Engineering at MIT, Senior Vice President for the Industrial Internet Consortium (www.iiconsortium.org) and engaged with the MDPnP Program at the Massachusetts General Hospital, Harvard Medical School (mdpnp.org). He expects to contribute in developing and implementing the vision of the internet of systems (IoS) which extends the concept of the internet of things (IoT) and the industrial internet to catalyze global economic growth. Prior to joining the IIC he was the Co-Founder and Executive Director of the MIT Forum for Supply Chain Innovation at the MIT School of Engineering. He taught Strategy and Management at the MIT Sloan School of Management. He was a Member of the Auto ID Center at MIT and Research Scientist in the Engineering Systems Division, MIT School of Engineering. He has lectured worldwide on technology innovation and participated in executive education at MIT and several other institutions in US, EU and Asia. He has authored papers and articles related to evolution of the industrial internet (2003), intelligent software agents, frame-work for predictive analytics, operations and supply chain management, sensors in healthcare platforms and renewable energy for sustainable global economy. He often serves as an independent consultant and advisor for major corporations and governments. His prior work includes the US Department of Defense, United Nations (UNDP), the World Customs Organization (WCO) and the President's Science and Technology Advisory Group (PSTAG) for the President of Taiwan (ROC) as well as major industries. He is a lifetime champion of public K-16 education. Shoumen earned his PhD from Rutgers University in collaboration with Department of Molecular Biology at Princeton University. He was a Research Fellow in Medicine at the Massachusetts General Hospital and Instructor in Medicine at Harvard Medical School, Harvard University. He was a Research Associate at the Whitehead Institute at MIT and a member of the Human Genome Project at MIT. He was a Research Scientist at the University of California (UCSF) School of Medicine (San Francisco, CA). In between his careers in research/medicine and engineering/management, he served in the public sector for the City of San Francisco, State of California and in US Government roles. His self-guided convergence of medicine into engineering was catalyzed while auditing AI courses at MIT and network engineering lectures at the University of California, Berkeley. Please explore http://bit.ly/MIT-IOT and http://bit.ly/MIT-SD or http://bit.y/SD-CV-2015 Please write to shoumen@mit.edu or visit http://bit.ly/S-Datta and www.iiconsortium.org
---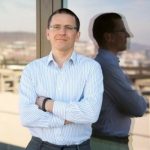 Dr. Florian Michahelles
Head of The Web of Things Research Group, Siemens
Title: Powering the Internet of Things by Semantic Technologies
• Date/Time: 9:00~10:00 am, Oct. 28, 2015
• Place: Room Halla, Hall E, Coex
• Session Chair: Dr. Till Riedel
Abstract:

Today's industrial processes are mostly linear and designed for high throughput. Following the trends of mass customization, commoditization of physical goods and augmentation by digital services, industry is just about experiencing a digital revolution.

Connecting machines for enabling analytics and control is not new by itself. The paradigm of Internet of Things, however, brings connectivity and exchange of data to a new level: connectivity and access to machine-generated data becomes a new default requiring new models of a shared understanding of data in order to generate value out of the massive amount of emerging data.

This talk will discuss how semantic technologies can help to add machine comprehensible domain knowledge to data. Florian will introduce the concept of activity streams establishing high-level coordination among machines for human-robot collaboration. This talk will conclude deriving research questions the IOT community may approach in order to help to develop an industrial Web of Systems.
Biography:

Dr. Florian Michahelles heads the Web of Things research group of Siemen Corporate Technology in Berkeley, California. Florian leads a team of researchers who aim at making machines devices in industrial environments smarter and more collaborative. Together with academic partners, as well as startups and corporate research groups the team explores the opportunities of web-based communication and semantic technologies for Siemens business areas. Florian also teaches a course on Internet of Things at UC Berkeley and studies how students can develop mesh-up Internet of Things applications based on the team's communication framework.

Prior his engagement with Siemens, Florian has been working on identifying consumer products via RFID and barcode and relating information and products to physical goods via mobile applications. Following his stint as Director of the Auto-ID lab and lecturer at ETH Zurich, he came to Siemens Corporate Technology to ramp up his own team and is now looking to develop applications for semantic technologies.

He holds a PhD from ETH Zurich, a MSc from LMU Munich, and has been a visiting researcher at MIT Sloan and Keio University.

Florian has published 100+ academic papers in international conferences and journals and is actively supporting the research community by voluntary roles as program chair, research proposal evaluator and guest lecturer. He has been ranked at #21 within the Top 100 IoT Thinkers by Postscapes.